Women in Security 2020 – Entries now open for AWSN Women in Security Awards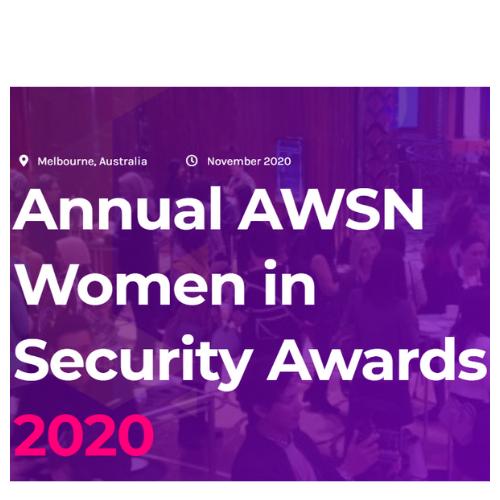 Big Gala Celebration Dinner to rock Melbourne, 10 hot new awards up for grabs
MELBOURNE – In recognition of International Women's Day, entries for the annual Australian Women in Security Network (AWSN) Women in Security Awards, recognising excellence, innovation and leadership, officially open today.
The 20 awards – which recognise individual achievements and trailblazing companies and organisations – showcase and celebrate excellence and outstanding achievements in security.
The popular awards recognise and champion the inspirational work of women, men and organisations at the forefront of the industry – making a real difference and reshaping the security landscape.
Entries open on March 8 and close on June 16, 2020. Finalists will be announced in early July. A special 2020 Gala Dinner and Ceremony (which replaces the one-day conference and end-of-day award ceremony), is slated for August 26, 2020, and will be hosted in Melbourne.
"This is an incredibly powerful platform to connect women in security across Australia and abroad. It supports women already within the security industry to stay and grow – and inspires the next generation to pursue a career in security through a powerfully engaging and passionate community, " said AWSN founder Jacqui Loustau.
"Last year, the inaugural awards hosted 213 attendees at the live Melbourne event, and over 142 joined in the award celebrations in each local AWSN branch across Australia. This year, we're expecting the number of live attendees to reach 400 – or more – and we're ramping it up with a big bang Gala Dinner for a night of celebration and networking that will strengthen relationships."
Loustau said the AWSN Annual Women in Security Awards is a much-needed celebration platform for the industry.
"We're not only privileged to celebrate women in security, but we're also showing that there are people out there in our industry doing incredible things for our cause – we act as a platform to boost the public profile of businesses and partners championing women in security."
Loustau said she's equally excited to announce the hot new award lineup – which features 10 new awards – many of them catering to the protective security and/or resilience arenas.
"Women on this day – International Women's Day – and every day need to get involved and celebrate their achievements – and there's an award category that now caters to every segment of the security landscape.
"We want to find the 'rock stars' and the 'hidden gems' of the security industry that are excelling in their endeavours. It's time to share your passion and thought-leadership – or promote the stellar efforts of a colleague or organisation – with a like-minded community that's eager to celebrate and praise outstanding achievements."
Promoting and empowering women is also the tireless pursuit of Abigail Swabey, co-founder of Source2Create, the sponsorship and event manager of the Annual AWSN Women in Security Awards.
"As a valued member of AWSN and now the new co-founder of Source2Create, I wanted to follow my passion for professional excellence and to uplift and empower women in security. I did two things: I launched a company based around my true core values – including authenticity and transparency – and partnered with AWSN on the Annual Awards.
"The partnership between AWSN and Source2Create brings together the perfect combination of vision to identify, encourage, celebrate and promote those within our security network, both now and into the future."
See the full list of awards below:
IT Security Barrier Breaker
Security Champion
Male Champion of Change
Unsung Hero in Security
The 'One to Watch'
Best Place For Women To Work In Security
Best Higher Education Program For Young Ladies In Security
Best Female Secure Coder
Best Student Security Leader
Australia's Most Outstanding Woman in IT Security
Best Volunteer or Not-for-Profit Organisation
Best Security Certification Provider
New Awards:
People's Choice for 'All Stars' in IT Security
People's Choice for 'All Stars' in Protective Security and/or Resilience
Most Promising Newcomer in any areas of Protective Security and/or Resilience – Best Champion of Women in Security (applies to all areas of Protective Security and/or Resilience
Best Mentor (not necessarily of women, but in the Protective Security and/or Resilience industry in general)
Best Career Contributor in any area of Protective Security and/or Resilience
Australia's Most Outstanding Woman in Protective Security and/or Resilience
AWSN Award of 2020
So what are you waiting for? Get nominating. The process is simple. Individual or company/organisation awards can be made through self-nomination or you can nominate on someone else's behalf. Click here for details.
Sponsorship packages are available. Sponsors receive fantastic exposure from arrival through to wrap-up including the opportunity to present awards on stage. A select prize is donated to each winner.
The AWSN is a trusted authority and body of women and men across Australia that work across all industries, leading advocates that are impacting positive change and contribution to Australia's Security footprint for women.
Source2Create (S2C), a media and marketing services company, is the sponsorship and event manager of the Annual AWSN Women in Security Awards.
For more information or to sponsor the must-attend and highly anticipated Gala Dinner event, contact Source2Create co-founder Abigail Swabey at aby@source2create.com.au, or email via the Sponsor button on our Awards page.