S2C Storytelling with business influencer Leila Henderson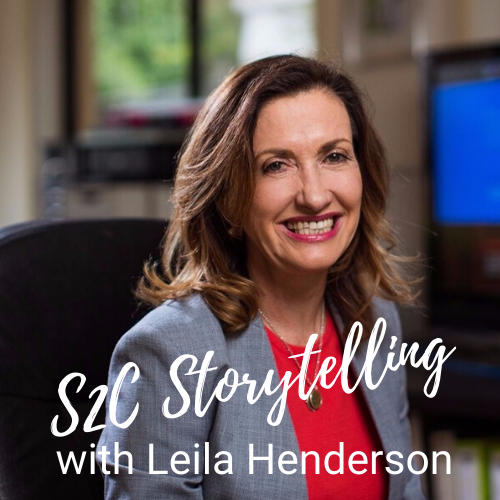 There isn't much Leila Henderson hasn't tried – or achieved – working in the trenches of the Australian business community. She's an author, a journalist, an entrepreneur many times over, a marketer and PR professional, a tech founder, a cloud automation specialist and an all-round innovative thinker.
Today, as always, she's a gaggle of things: She performs seven roles.
For starters, she's the CEO and founder of Newsmaker and Pitch Society – PR automation platforms (Australia and the US); the managing director and co-founder of Kondotto – codeless business process automation software; and the director of Women in Innovation South Australia  – the peak body for innovative women in STEM.
But that's just scratching the surface. Henderson also coaches entrepreneurs across the country as a fellow at Flinders University; helps families and schools with mobile communication devices and software as non-executive director of MGM Wireless; and is the director of COTA Insurance – a not-for-profit that's focused on insurance for older Australians.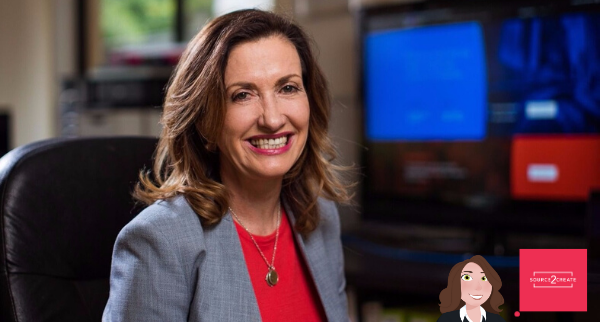 Source2Create (S2C) virtually sat down with the 'always-on-the-go' Henderson to discuss her professional journey, some highs and lows, her valuable lessons learned, along with advice for others looking to capture a glimpse of her entrepreneurial spirit.
S2C: What was your first job?
LH: I was a lifeguard at the local, unheated outdoor swimming pool in Scotland for three seasons. This prepared me for any challenge, including sexual harassment which at that time was known as 'life'.
My first office job was at the local Labour Exchange in Kirkcaldy, Scotland. Like Centrelink, but we paid out cash. It was my introduction to the real world of poverty and survival in a region suffering from closed coal mines in the Thatcher era. I had a female boss with a gentle demeanour, but a steely resolve when it came to clients jumping the counter – which they regularly did.
S2C: Did you always envision a career in IT?
LH: I was born too early for a career in computer science, but I did study math at a high level and if I could start again, that's what I would do.
I'd won a place at St Andrews University to read French when a friend suggested journalism. I travelled overland through the Middle East and Asia to Australia – landing on my feet with Ita Buttrose on the Australian Women's Weekly.
I'm pretty sure I was the first ACP journo to bring their own PC (IBM clone) to work, circa 1986. Because of that I was the local 'expert' and trained other journos when the company started to computerise. The breakthrough into IT communication was when Wang asked me to write for the Wang Magazine; at the foot of the title page were the words 'Written by well-known IT commentator Leila Henderson.' News to me but I never looked back
By now I'd had two babies, when the visionary Jenny and Tony Blackie hired me at IT PR firm Blackie McDonald, with clients like Microsoft and Borland and many other long-gone names. It was very much learn-as-you-go – all the terminology was brand new.
The next big career step was with IBM Australia where I produced the AS400, RS6000 and Asian Retail magazines, and worked across every division over several years (including for rising star David Thodey).
It was when I moved to Adelaide as a single mum and Mark Hollands gave me a gig on The Australian's Computers & IT Business Section in the dotcom boom that the shift happened, from journalism to business. Doors flew open everywhere. I was hired as marketing director in a text-to-voice dotcom and learned the ropes of startup life, boardrooms and IPOs.
The idea for an Australian online press release service indexed by Google News was bubbling away in 2002 when I met a Tassie developer at an IT conference in Silicon Valley.
S2C: What are some of your greatest achievements/key milestones in your career path?
LH: I co-founded Newsmaker in 2003, becoming the first Australian Google News accredited online press release service to send releases to journalists as html emails. The service attracted revenue in week one, and today we have over 18,000 customers and a US media service (pitchsociety.com) launching in beta.
From the highlights reel: winning the Women In Innovation IT Award in 2014, being conferred the honour of Fellow of the New Venture Institute of Flinders University by the Governor of South Australia for my contribution to innovation programs. In that same year, I was presented with a Women's Leadership Award from ZONTA International.
In 2015, I co-founded Ofreddi with data migration guru, Stephen Koop, to develop a codeless cloud automation platform, now called Kondotto (which is a contraction of our names and 'otto' for automatic). Kondotto is a cloud business process automation robot that sits on top of data repositories and monitors them 24/7. We were named as one of the top 10 Australian startups in the inaugural Bridge to MassChallenge in 2016.
S2C: How do you think the role of the CEO has changed during your time in this position?
LH: In the past, leadership was more paternalistic than collaborative. Bosses handed down their edict from the mount, like handing down stone tablets. Today, leadership is more collaborative by design. No doubt, COVID-19 will bring many more changes; though it's hard to predict whether this will create a more flexible workforce or if there will be too many gigs and not enough careers.
S2C: Innovation is a big catch cry and on everyone's minds. What does innovation mean to you?
LH: Innovation to me is a matter of survival. I've worked across innovation industries for most of my career, since 1988 and the first modems, so much so that I can't think any other way. My credo is to anticipate change but that is being stretched to the max at the moment.
S2C: What challenges/hurdles have you faced in your career?
LH: The biggest setbacks I've experienced have involved hiring technical people. I've learned how much fiction there can be in resumes and how carefully to conduct due diligence. I've seen even large companies fall for a spiel by a 'young gun' – and how they are never found out because people, by and large, don't want to admit they made a hiring mistake.
If you're non-technical and you need to hire programmers, my advice is to find a highly trusted independent third party who can both vet any technical hires and vet their work on a regular basis.
Manage feature creep of ideas by developing a vision of how the end user will use the product – and stick to it. Go easy on ideas and over-deliver on the timing by being early.
Other features can be added to grow a market that is paying – but only once they are paying. Manage expectations by classifying ideas into must-haves, nice-to-haves, want-to-haves and maybe-haves.
S2C: What are some of your biggest lessons learned?
LH: Developers are very smart guys but my experience is that they will underestimate the time, cost and complexity of a project. Never ask a programmer if he can do something, ask him when and how much? As Didier Elzinga once said, 'hire slowly.'
S2C: What are your top priorities over the next 12 months?
LH: Getting through the economic downturn by reducing the wage bill. Launching Pitch Society in North America, combining the power of Twitter and auto-publishing to create a cross-media platform for investor, public and media relations.
Building up our client base for Kondotto, which is such a powerful service, but challenged by the need for a fast-growth budget. The IT industry itself is constantly looking for ways to reduce dependency on software languages because they create such a headache for customers – it's actively seeking low code and no code solutions.
S2C: What are the top attributes for a modern CEO?
LH: An open mind for new ideas and good critical thinking ability. They should not be impulsive. Strategic long term planning and the ability and willingness to delegate – especially in areas where you're not strong. Honest awareness of your own strengths and weaknesses would be good.
S2C: What does it mean to you to be a successful female leader?
LH: I know a lot of fantastic female leaders and I can't understand why we don't have more at the top, because there's no shortage of talent.
I've learned not to internalise challenges or take them personally – even though you very likely will be personally attacked, you need to rise above it. Separate your ego from your business when it comes to making decisions – play the ball not the person.
I also try to listen more than talk, though conversely your voice does need to be heard. Today's young women were raised talking into video cameras so I don't think they'll have that problem.
S2C: What advice would you offer to other women/girls looking to travel a similar path?
LH: Don't be a bully, but don't allow yourself to be bullied. This means looking people in the eye and asking them questions, rather than attacking back if you feel attacked.
Listen with an open mind, don't hang on to ideas that aren't serving you or your business well. Get a good lawyer, a master negotiator not a hawk who gets you into deeper water.
Get a good accountant who understands early stage businesses and what they need.
You just have to get the financial knowledge you don't have and I've been very lucky in that regard in having mentors who taught me painstakingly how to build and analyse financial forecasts.
All my mentors – there's a long list — are incredible people and I would not be where I am today without them.
Also – of course – outsource domestic duties – I've never been big on housework so from a young age I always made sure I earned enough to cover those costs.
S2C: What are your top business tips?
LH: What do you need? Influence, money, beta testers, openness to experiment with new ideas.
Remember 'a complaint is a gift.' If you can't take criticism you can't be in business – so you need to suck it up. You also need to be careful not to be too apologetic and get taken advantage of. But I've found you can get some really useful customer feedback from complainers – they can really help shape your product.
Remember the words: 'Thank you – your feedback is always appreciated. We are looking at the issue right now.'
S2C: How important are industry events that champion and recognise female excellence
LH: There's this whole thing that men, and some women, say: why do we need female-focused events, we don't have male-focused events. Yes, you do. Those male-focused events are called 'events.'
Women in a room create so much energy – they are free to be themselves. Sadly, when men are present, women defer to them and lose their energy in the process. Sorry, but I've seen it over and over again.
S2C: What keeps you up at night?
LH: The usual things, staff and tax and cash flow. You simply have to have a Plan B for revenue – especially in times like these.
S2C: What do you do outside of work? What's on your bucket list?
LH: My new passion is orienteering which I took up about 18 months ago. It's fascinating because it combines brain and brawn. It's exposed my weaknesses and allowed me to become a better leader – it requires focus, strategy and on-the-spot decision making in a challenging and physically demanding situation.
My weaknesses? My tendency to try to solve problems with brute force. I'm learning to 'be still' and consider consequences – not to run around like a mad rabbit.
On my bucket list is the Friendship Route, the largest sculpture route in the world built for the Mexican Olympics.