8 days left to nominate for the AWSN Women in Security Awards -200 nominations already in the running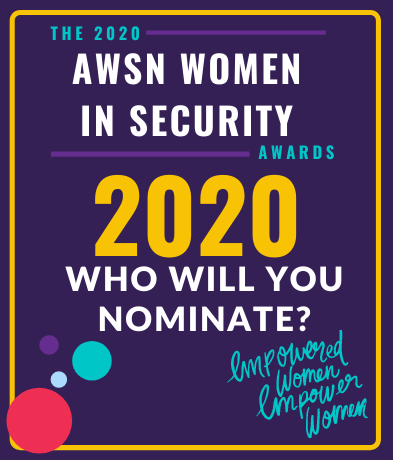 With the clock ticking to enter the annual Australian Women in Security Network (AWSN) Women in Security Award – entries close June 30 – it's time to nominate and celebrate the 'hidden gems' and identify the rock stars in the security industry.
With eight days left to go, there are already 200 nominations in the running across all categories, from individual awards to company achievements.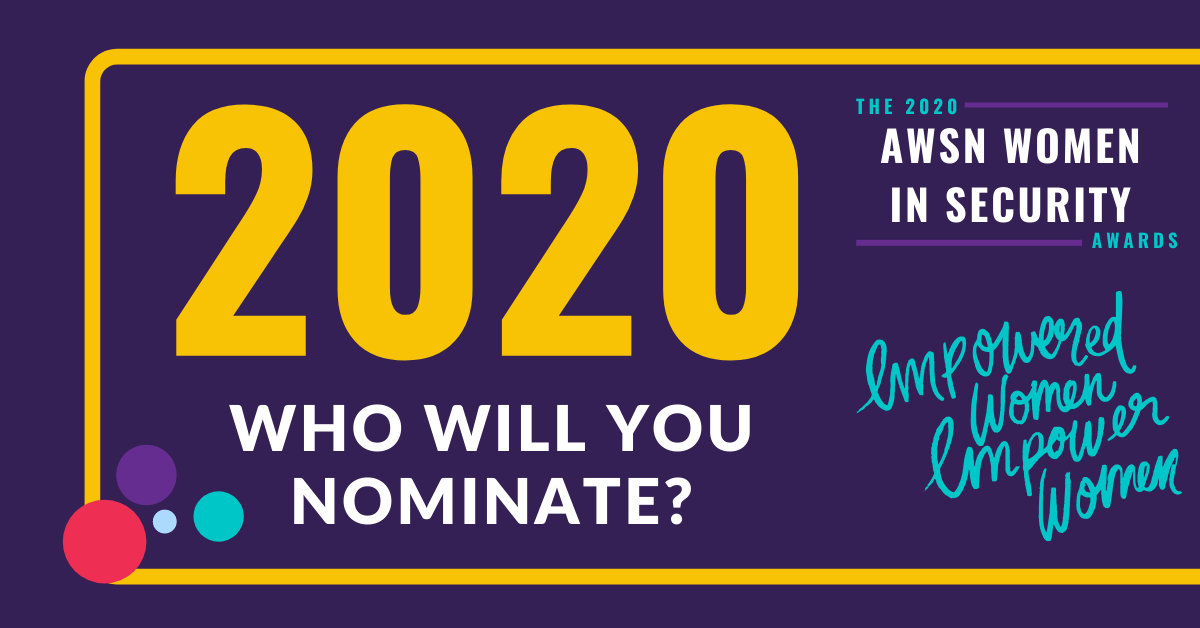 The varied and colourful awards applaud and champion the inspirational work of women, men and organisations at the forefront of the industry – making a real difference and reshaping the security landscape.
Finalists will be announced in July. A special 2020 Gala Dinner and Ceremony (which replaces the one-day conference and end-of-day award ceremony), is slated for November 2020, and will be hosted in Melbourne.
"This is an incredibly powerful platform to connect women in security across Australia and abroad. It supports women already within the security industry to stay and grow – and inspires the next generation to pursue a career in security through a powerfully engaging and passionate community, " said AWSN founder Jacqui Loustau.
Last year, the inaugural awards hosted 213 attendees at the live Melbourne event, and over 142 joined in the award celebrations in each local AWSN branch across Australia.
Abigail Swabey, co-founder of Source2Create – the sponsorship and event manager of the Annual AWSN Women in Security Awards – is excited to be involved in the awards program, which uplifts and empowers women in security.
"We're getting down to the wire. We want to make sure all of the rockstars, 'hidden' security superstars, and exceptional men and women at the forefront of the security industry are getting involved – not only to empower the entire company or celebrate the individuals' own successes, but to express admiration for fellow co-workers and give back to the community."
Swabey is equally proud of the judges' lineup this year, which includes a cross section of industry experts and security thought leaders.
The 2020 lineup includes:
Healthscope CISO, Mitra Minai;
Author and cybersecurity professional, Craig Ford;
Head of product at Cynch Security and founder of AWSN, Jacqui Loustau;
Services Australia CISO, Narelle Devine;
AARNET general manager of security operations, James Ng;
Victoria Police, director police enquiry and data sharing department, Jacinta Thomson;
Fire and Rescue NSW CISO, Asaf Ahmad;
Aurecon associate senior security consultant, Rachell De Luca;
Thales ANZ national security director, Jason Brown;
AWSN chairwomen, Tamsyn Harris;
Australian Security Industry Association (ASIAL) CEO, Bryan de Caires;
Jetstar head of cyber, Yvette Lejins;
ISC2 director of cyber security advocacy APAC, Tony Vizza;
Responsible Cyber managing director/former CISO, Magda Chelly;
Telstra senior project specialist/threat researcher, Darren Pauli; and
CyberCX chief strategy officer, Alastair MacGibbon.
See the full list of awards below:
IT Security Barrier Breaker
Security Champion
Male Champion of Change
Unsung Hero in Security
The 'One to Watch'
Best Place For Women To Work In Security
Best Higher Education Program For Young Ladies In Security
Best Female Secure Coder
Best Student Security Leader
Australia's Most Outstanding Woman in IT Security
Best Volunteer or Not-for-Profit Organisation
Best Security Certification Provider
New Awards:
People's Choice for 'All Stars' in IT Security
People's Choice for 'All Stars' in Protective Security and/or Resilience
Most Promising Newcomer in any areas of Protective Security and/or Resilience – Best Champion of Women in Security (applies to all areas of Protective Security and/or Resilience
Best Mentor (not necessarily of women, but in the Protective Security and/or Resilience industry in general)
Best Career Contributor in any area of Protective Security and/or Resilience
Australia's Most Outstanding Woman in Protective Security and/or Resilience
AWSN Award of 2020
Acts of Bravery and Courage
So what are you waiting for? Get nominating. The process is simple. Individual or company/organisation awards can be made through self-nomination or you can nominate on someone else's behalf. Click here for details.
Sponsorship packages are available. Sponsors receive fantastic exposure from arrival through to wrap-up including the opportunity to present awards on stage. A select prize is donated to each winner.
The AWSN is a trusted authority and body of women and men across Australia that work across all industries, leading advocates that are impacting positive change and contribution to Australia's Security footprint for women.
Source2Create (S2C), a media and marketing services company, is the sponsorship and event manager of the Annual AWSN Women in Security Awards.
For more information or to sponsor the must-attend and highly anticipated Gala Dinner event, contact Source2Create co-founder Abigail Swabey at aby@source2create.com.au, or email via the Sponsor button on our Awards page.