Meet the Judges of the 'AWSN Women in Security Awards' 16 thought leaders cover entire spectrum of security industry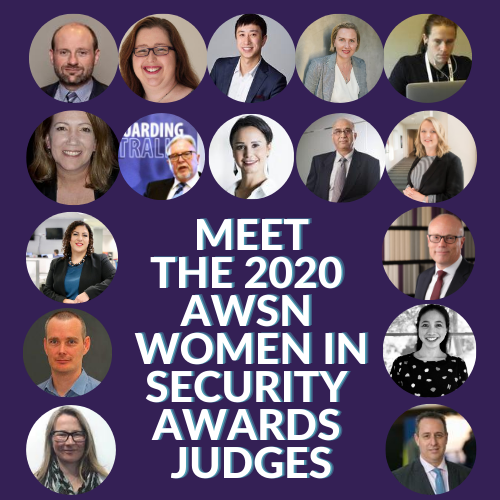 With nominations closing June 30, let's meet the talented crop of judges weighing in on this year's AWSN Women in Security awards.
From government security experts to CISOs from across a range of industries to cyber experts, the 16 judges cover the entire spectrum of the security industry.
Indeed, the judging panel will be giving their valued expertise in determining this year's 20 award winners.
The awards applaud and champion the inspirational work of women, men and organisations at the forefront of the industry – making a real difference and reshaping the security landscape.
Finalists will be announced in August. A special 2020 Gala Dinner and Ceremony is slated for November 2020, to be hosted in Melbourne, however due to the present COVID situation we are now looking at moving this to a virtual broadcasted event across state gatherings instead but will keep you posted.
Abigail Swabey, co-founder of Source2Create (S2C) – the sponsorship and event manager of the Annual AWSN Women in Security Awards – is excited the 2020 judges' lineup includes a cross section of industry experts and security thought leaders.
"We're honoured to have this exceptionally talented group of judges  – with vast experience and knowledge across private, public and academic circles – to help us recognise and celebrate the most outstanding achievements of women and men, along with organisational excellence across Australia.
"Their dedication and commitment to the AWSN Women in Security Awards not only gives back to the community, but also empowers women today and into the future."
The 2020 lineup includes: 
Healthscope CISO, Mitra Minai
As Healthscope CISO, Mitra is in charge of defining and implementing Healthscope's Cyber Security and Data Privacy strategy and roadmap, and delivering effective solutions and services across the enterprise.
Mitra is a recognised leader in Technology, Data and Cyber Security controls transformation, successfully defining and implementing Centre of Excellence Technology and Cybersecurity functions across a multitude of industries, including some of the major international and Australian banks. She's a trusted advisor to senior stakeholders including Board of Directors, and Risk and Audit Committees, delivering effective governance and insights for informed decision-making and prioritisation of investment.
Additionally, Mitra is a board member of ISACA's Melbourne Chapter, successfully leading the chapter in various strategic, membership growth and retention and certifications promotion initiatives for the last 15 years.
Author and cybersecurity professional, Craig Ford
Craig formerly worked as a senior ICT security engineer for Davichi in which he performed ethical hacking engagements, also known as penetration testing, to help provide real-world testing of clients systems and help them be better protected.
He was responsible for assisting clients with internal and external security audits, as well as aligning clients and Davichi with the ISO27001 security framework. He also managed the Davichi SOC (Security Operations Centre) and incident response capabilities. He also conducts regular cybersecurity awareness training programs with both workshop/group training sessions and phishing simulations. He also assists with policy development and acts as a virtual CISO for managed security services clients.
Additionally, Craig is a published author with the book "A Hacker, I Am" with "A Hacker, I Am – Vol 2" and "Foresight" in the works to be published in 2020. He is a cybersecurity journalist for CSO Australia, which he regularly contributes to both the cybersecurity and technology industry.
Head of product at Cynch Security and founder of AWSN, Jacqui Loustau
In addition to Jacqui's day job working for Cynch Security, she works across multiple industry initiatives including managing the Australian Women in Security Network (AWSN), The Security Job Profile Project; Project Friedman and the AWSN cadets. She is also part of the co-founding group of Cyber Volunteers 19, which aims to help healthcare and critics small businesses in times of crisis.
Jacqui is a collaborator, connector and community builder, who pushes thinking and tries to positively change industry. She is particularly passionate about combating cybercrime, helping small businesses and building diverse talented workforces.
She holds a Bachelor of Information Systems and is CISM, CISSP certified. She is delivery driven with 16 years international experience in a range of technologies and practical experience across all security domains within multiple industry sectors.
Jacqui has spoken in a number of industry events and is the author of a number of technical security whitepapers and articles including the 'The Female Consultant chapter of an international book 'Women in the Security Profession'.
Telstra CISO, Narelle Devine
While at the Australian Defence Force Academy, Narelle completed a Bachelor of Arts (Information Systems and English) and later returned to UNSW to complete two Masters Degrees in Science– Information Technology and Systems Engineering.
After 23 years serving with the Navy, Narelle was appointed Chief Information Security Officer for the Australian Government Department of Human Services in 2016. The department transitioned to Services Australia in February 2020.
Narelle's team of over 260 staff protect the personal and financial security of 26 million Australians, managing 800 000 authentications every day and protecting the $190 billion in payments the agency makes each year.
AARNET general manager of security operations, James Ng
James is AARNet's (Australia's Academic & Research Network) General Manager of Security Operations, responsible for Security GRC (Governance, Risk and Compliance) and the SOC (Security Operations Centre).
AARNet is a not-for-profit National Research and Education Network (NREN), a national resource owned by the Australian universities and Commonwealth Scientific and Industrial Research Organisation (CSIRO).
Until recently, James was a leader in Telstra's Cyber Security Governance, Risk and Assurance team responsible for implementing and operationalising cyber security risk management maturity through business partnering, engagement and security compliance activities (including PCIDSS and ISMS/ISO27001).
During his time at Telstra he was also seconded to Belong to lead their information security function. Prior to this, James also held various positions at Tabcorp, Deloitte, Foster's Group (now Carlton United Breweries and Treasury Wine Estates) and Sensis.
Victoria Police, director police enquiry and data sharing department, Jacinta Thomson
Jacinta has spent the last 24 years working in law enforcement and the public sector. As the Director, Security Management, Department of Justice and Community Safety (DJCS), she held the position of Agency Security Advisor and lead department representative on the State Emergency Management Team.
At DJCS, Jacinta established a high performing security and emergency management assurance capability, working collegiately across the organisation and Victorian Government to strengthen the department's security and emergency management posture. Jacinta brings a wealth of investigative and operational experience from her time in Queensland Police Service and Victoria Police where she attained the rank of Senior Detective.
At the Department of Defence, she led and managed national and international security investigations, audits and reviews. As the Director, Defence Industry Security, Jacinta led the delivery of bilateral security requirements to support the Australian – United States Defense Trade Cooperation Treaty through to implementation. She also managed the Defence Industry Security Program, strategies and plans to support defence and broader government contracts requiring third parties access to government classified information and assets.
Returning to Victoria in 2012, Jacinta managed the establishment of the Office of the Commissioner for Privacy and Data Protection. She recently commenced a new role at Victoria Police in the position of Director, Police Enquiry and Data Sharing Department.
Fire and Rescue NSW CISO, Asaf Ahmad 
Asaf is an experienced CISO with a demonstrated history of working in the public sector industry. He has been responsible for cyber/information security for the last 15+ years. He has acquired proven expertise in information/cyber security management, risk and governance. He has also helped organisations solve and manage complex information security challenges through appropriate use of strategy, risk-based approach, pragmatic use of technical solutions, to address both service delivery and compliance requirements.
Recognising that Cyber security is a business responsibility, Asaf's experience is in developing a cyber security program and roadmap together with all the stakeholders. These are all developed based on best practice frameworks and international cyber security standards.
Asaf is currently responsible for Cyber Security Governance, Technology Risk and Information Security management function for Fire and Rescue NSW, and active at the cluster level as part of the NSW Cyber Security Steering Working group.
Aurecon associate senior security consultant, Rachell De Luca
Rachell has worked within many areas of the security sector including alarm monitoring and control room, technical support, fire life safety, training and compliance, quality assurance, and WHS.
She was awarded the prestigious OSPA (Outstanding Security Professional Awards) Most Outstanding Security Consultant award in 2017 for consulting work delivered Internationally in Pakistan.
Currently, Rachell is an associate at Aurecon, leading the security and risk discipline in the Melbourne office and providing security consulting and design services to a range of clients.
Thales ANZ national security director, Jason Brown
Jason is responsible for international trade and security liaison with government, law enforcement and intelligence communities to develop cooperative arrangements to minimise risk to Thales and those in the community that it supports. He is also responsible to ensure compliance with international and Commonwealth requirements for trade control, national security and relevant federal and state laws.
Before joining Thales in 2004, Jason had 27 years experience in Commonwealth Government with appointments including: Assistant Secretary – Defence Imagery and the Geospatial Organisation; Director General – Safety, Compensation and People Development; Assistant Secretary – Defence Security; and various appointments in the Attorney General's Security portfolio in the areas of counter terrorism and security policy and investigations.
He has a number of publications in the areas of client service, intelligence management and security. He is an internationally known speaker in the areas of intelligence, security, innovation, export control, scenario and strategic planning.
AWSN chairwomen, Tamsyn Harris
With over 20 years in risk and security in Australian and overseas, Tamsyn is a passionate supporter of developing, supporting and inspiring diversity. Tamsyn is the Chair of AWSN.
She is a driver of change and leader specialising in Risk, Financial Crime and Cybersecurity with a demonstrated history of working in Financial Services in Australia, New Zealand and UK.
Tamsyn is a graduate of Australian Institute of Company Directors, Institute of Chartered Accountants Australia and New Zealand, Latrobe University and Vic Police Fraud Investigations.
Australian Security Industry Association (ASIAL) CEO, Bryan de Caires
Bryan has 30 years' senior management experience across a range of industry sectors. His early career was as a senior editor with Euromoney Plc, a global finance and business publisher based in London.
He moved to Australia in 1990 and joined b2b media company AIC (later renamed Terrapinn) as General Manager. In 1999, he joined the Australian Human Resources Institute as National Professional Development Manager.
He joined ASIAL in 2000 and was appointed Chief Executive Officer in 2006. He has helped to guide the organisation through a period of growth and development, including overseeing its federal registration as an Employer Organisation. Established in 1969, ASIAL is the peak national body for security professionals in Australia.
Jetstar head of cyber, Yvette Lejins
Yvette is currently the head of cyber at Jetstar, and is an experienced career CISO who's considered an exemplary and authentic leader.
She has held a range of positions including IT security, risk (CISDO) and CX head at Asciano; Atlassian security manager; NEHTA lead information security architect; and the information security manager for the NSW Attorney General's Department.
ISC2 director of cyber security advocacy APAC, Tony Vizza 
Tony Vizza has been involved in the information technology and information security fields for more than 25 years.
Tony completed a Bachelor of Science in Computing Science from the University of Technology, Sydney, Global Executive MBA from the University of Sydney which included study at Stanford University, The London School of Economics and the Indian Institute of Management, Bangalore. He is currently studying for a Juris Doctor degree at the University of New South Wales.
Tony is a member of the board of directors for the Australian Information Security Association (AISA); Cyber Security Ambassador for the NSW Government; a member of the Cybersecurity Industry Advisory Committee for the NSW Government; a member of the Technology and Business Services Industry Skills Reference Group for NSW TAFE; and a member of the Data Security Standards Committee for Blockchain Australia. He has also provided expert services to the Australian Government's Australian Prudential Regulation Authority (APRA), the Law Society of NSW, the Australian Security Industry Association Limited (ASIAL) as well as numerous boards.
Responsible Cyber managing director/former CISO, Magda Chelly
Magda is a former Chief Information Security Officer. She has a Ph.D. in Telecommunication Engineering and is a Certified Information Systems Security Professional.
Following six different countries, and her own entrepreneurial journey, she is currently leading the Cyber Risk Consulting Services in Asia for Marsh, based out of Singapore. She has been supporting companies across the world as a virtual CISO during her career, building cyber security strategies, and technical roadmaps for continuously changing technological landscapes.
She has been a keynote speaker for international conferences, and is recognised as an international influencer, globally.
Telstra senior project specialist/threat researcher, Darren Pauli
Darren is an information security reporter with more than a decade's experience in the beat. He moved to Telstra's cyber security unit after serving as an infosec correspondent for various tech-focused publications.
He actively fights cyberwar and hacking hype and strives to make meaningful contributions to the public's understanding of how information security affects their lives and the world around them.
In his current role at Telstra, his information security advice is deeply pragmatic and seated in an understanding of the average user, human psychology, and the active and historical threat landscape.
CyberCX chief strategy officer, Alastair MacGibbon
Alastair was recently the National Cyber Security Adviser, head of the Australian Cyber Security Centre (Australian Signals Directorate) and Special Adviser to the Prime Minister on Cyber Security.
He has a private sector and government background and has served as the Government's e-Safety Commissioner and as the general manager of security for Dimension Data.
Alastair helped establish the Australian Federal Police's high-tech crime centre during his long stint with the Australian Federal Police, and also previously worked at eBay as its senior director of trust, safety and customer support, and as the local CEO of infosec certification not-for-profit CREST Australia.
CyberCX has a workforce of over 400 of Australia's most talented cyber security professionals, revenues of more than $100 million per year and a national footprint of over 20 offices across Australia.
See the full list of awards below:
IT Security Barrier Breaker
Security Champion
Male Champion of Change
Unsung Hero in Security
The 'One to Watch'
Best Place For Women To Work In Security
Best Higher Education Program For Young Ladies In Security
Best Female Secure Coder
Best Student Security Leader
Australia's Most Outstanding Woman in IT Security
Best Volunteer or Not-for-Profit Organisation
Best Security Certification Provider
New Awards:
People's Choice for 'All Stars' in IT Security
People's Choice for 'All Stars' in Protective Security and/or Resilience
Most Promising Newcomer in any areas of Protective Security and/or Resilience – Best Champion of Women in Security (applies to all areas of Protective Security and/or Resilience
Best Mentor (not necessarily of women, but in the Protective Security and/or Resilience industry in general)
Best Career Contributor in any area of Protective Security and/or Resilience
Australia's Most Outstanding Woman in Protective Security and/or Resilience
AWSN Award of 2020
Acts of Bravery and Courage
Sponsorship packages are available. Sponsors receive fantastic exposure from start to finish including the opportunity to present awards on having naming rights. A select prize is donated to each winner.
The AWSN is a trusted authority and body of women and men across Australia that work across all industries, leading advocates that are impacting positive change and contribution to Australia's Security footprint for women.
Source2Create (S2C), a media and marketing services company, is the sponsorship and event manager of the Annual AWSN Women in Security Awards.
For more information or to sponsor the must-attend and highly anticipated Gala Dinner event, contact Source2Create co-founder Abigail Swabey at aby@source2create.com.au, or email via the Sponsor button on our Awards page.