S2C Storytelling with 'digital powerhouse' George Hunt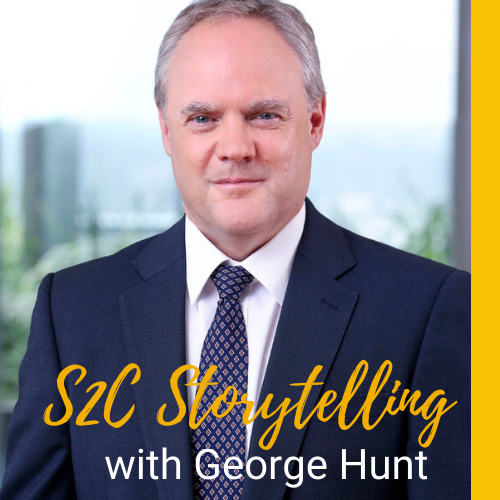 If outgoing Sydney Water CIO, George Hunt, wasn't in IT, he'd be ensconced in academia – researching and lecturing, sporting a beard,  wearing long locks, all decked out in jeans, and applying patches to the elbows of his woolen jackets. 
Indeed, that's one whimsical scenario that plays out in his mind. Equally impressive are the stories that Hunt reveals to S2C as he recounts his career highlights and achievements across a multitude of IT leadership roles spanning across the globe, and shares his colourful and rich lessons learned. 
From a group CIO to a business and digital transformation director to a GM of digital business – and many more jobs in between – he's a true storyteller with experience in strategy, digital, transformation, customer, risk management, regulation and advisory. 
S2C caught up with Hunt to discuss his early days, his memorable career milestones, his  hearty lessons learned, and his future plans. 
What was your first job? 
My first job was a paper round in a town called Worcester (where the delicious sauce comes from) in the UK. It was a good lesson in hard graft: I delivered papers every morning (including Sunday) and 6 evenings each week. My route was quite long so I bought myself an old bicycle and adapted it so that my paper bag would fit on the front handlebars – this was especially useful on Sundays because of all the supplements that were added to the Sunday papers.
I would get up at around 6:15am each day and complete my round at around 7:45am when I would go back home, get into my school uniform and then head off to school for the day. I would then get home around 4:15pm and do my round all over again with the evening papers. It was a really tough way to earn around £5.00 a week but it taught me a few rich lessons in life about hard graft and being reliable and dependable – I never missed a paper round whatever the weather.
My first real proper job was at an engineering apprentice at a local company that made dynamometers and rolling roads. It was a four-year technical apprenticeship and was really exciting because the company made engine test rigs for formula one cars through to the engines for Concorde, plus rolling roads that optimised performance for rally cars. As a young apprentice, it was very rewarding to get near that kind of technology; it was also a prerequisite to the fusion of software and engineering coming together – something we might refer to as a digital twin today.
Following that, I went to University in Birmingham in the UK and took a degree in Engineering where my final year project was programming welding robots for the Mini Metro production line in Birmingham. Many readers won't remember that car as it was a long time ago, but at the time this was cutting edge manufacturing technology.
Did you always envision a career in IT? 
Not really, the fusion of software and engineering, and also the introduction of robotic automation and computer numerically controlled machine tools kind of took me down that path. 
Following university, I took on a role to write software for machine tools; in particular, the post processors that took a computer aided design (CAD) drawing and turned it into code that a machine tool like a lathe or milling machine could understand to produce the component. This was really exciting as it was right at the start of the technological evolution in this area – in fact my first computer had 8" floppy disks and a hard drive that was 10Mb – unbelievable by today's standards, but cutting edge at the time.
After two years, I joined a specialist company that sold computer aided engineering software; this was the fusion between computer aided design and computer aided manufacturing. It was an amazing period in my life. I started working with clients who had real problems to solve in the design and manufacture of complex engineering components. This role taught me so much about how the combination of good technology (IT) and smart people working together could deliver so much. It taught me some of the key principles of how to collaborate, lead and work together as a team to achieve remarkable outcomes.
Following that, after around three years I was offered my first proper IT leadership role at PetroFina, a Belgian Oil Company. Initially as an IT Program Director and then subsequently Head of IT for European Downstream operations. This was the first real role in IT leadership, and this took me down the path I have followed subsequently in my career.
How did your journey lead you to Australia? 
After PetroFina, I joined KPMG Consulting in London. I had been working with the likes of Texaco, Shell, BP and other large oil companies on exciting and transformation programs of work and acquired a taste for consulting.
I approached the usual suspects and was offered various roles at PwC, EY, and Deloitte, but I really liked KPMG as they seemed to value my industry experience more than the colour of my school tie. I joined them in their world class IT Group and travelled the world on various consulting and program delivery engagements.
During that time, I worked across numerous sectors including manufacturing, aerospace, pharmaceutical, and finance, but I seemed to spend a lot of time working in utilities and energy for companies like British Gas, BP and Thames Water. It was the Thames Water work that then led me to join their parent company RWE as a CTO. 
This role had a remit across Thames Water, American Water and NPower in the UK. At that point, my depth of knowledge around asset-centric, regulated industries, was growing quite fast as digitisation was starting to have a major influence.
In the years that followed, I spent a significant amount of time working in the utility sector, most notably as CIO for Wessex Water, but also various consulting engagements with water and wastewater companies right across the world. One such company I had done some work with was Sydney Water, so I knew quite a lot about them.
Then in 2015, it became apparent to me that they were looking for a new CIO. I remember broaching the idea of moving to the other side of the world as we were living in leafy Warwickshire in the UK at the time; and being the amazing person she is, my wife said 'go for it' – that was a bit like a 'Rocky moment' for me when Rocky is told by his wife to 'Win' – was that Rocky II?
Anyway, to cut a long story short, I found myself joining Sydney Water as their CIO and General Manager Digital in March 2016.
What were your early roles in Australia? 
Although I had worked in Australia many times and also visited as a tourist many times, my primary role in Australia has been the one at Sydney Water.
It's been such a privilege working for Sydney Water. During the recruitment process, I knew when I met the then Managing Director, Kevin Young, that I really wanted to work with him. What a decision that was for me, both personally and professionally. 
Other than my parents, there have only really been two people in my life that have made a huge difference to who I am and have shaped my personal values and beliefs: The first one was the Managing Director of the PetroFina business I worked in, the second was Kevin Young.
Working for Kevin during the past four years until he retired last year has been an extraordinary privilege, as has been the privilege working for the current Sydney Water Board and Chairman too – an amazing group of people who not only believed in the difference that digital technology could make to how we serve customers, but also people who believed in me and my team to deliver on that promise.
It's been an amazing period of my life, both personally and professionally, and a time I will never forget for the leadership I had the privilege to work for, and also the team of people I have worked with during that time.
What tech projects are you most proud of while at Sydney Water?
There are many things that stand out for me in terms of projects, but the most rewarding aspects of my time here relate to my team and seeing them grow in capability, experience, maturity and confidence.
We have quite a large team in Digital at Sydney Water and their roles span a wide portfolio of projects, services and technologies. It has certainly been an emotional period as we have tackled lots of challenges but above everything else, we have worked as a team to deliver some great outcomes.
The standout programs for me are probably the replacement of our 32-year-old mainframe billing system last year and the development of our customer hub which attracted a number of awards during this period.
The billing system replacement was a major program of state significance and attracted scrutiny from the highest levels of government and also the highest levels of Sydney Water. It was a 3 year journey to deploy SAP S4/HANA ISU, CRM and REFX to replace a system that had been very reliable but was getting increasingly hard to maintain and develop to meet customer needs and expectations.
The proudest moment was seeing a group of people come together to deliver this program, we always had the mantra – "One Team, One Goal, One Purpose and No Grandstands". The grandstands reference was because I think organisations create governance models where it is easy for senior staff to sit in a grandstand and say 'you missed a bit'. We needed to create an environment where everyone involved had a clear role, purpose and contribution, and we also needed to nurture an environment where a successful outcome was personal to them in some way. 
This approach became the prerequisite to success and the SAP platform went live last year on time, on budget and beyond our wildest expectations in terms of quality and no customer impact. This project has attracted attention from the NSW Government as an exemplary program and also recognition from further afield in Queensland parliament and globally through SAP.
The other program that gave me a lot of pride was our customer hub program, this was a fusion of IT and OT and aimed at improving our response to customer incidents, it also laid the foundation to prevent incidents through predictive monitoring and maintenance.
We had worked with some major partners who shared the vision, but the estimated price tag was much too high. So, in response I remember cherry picking the brightest and smartest people I could find and putting them in a room and setting a challenge to develop a spatial hub platform that would underpin the establishment of this customer hub in Sydney Water.
That's exactly what we did and the result has been amazing, not only has it dramatically improved our response to incidents, it has also embraced innovation in the form of IoT and analytics to provide Sydney Water with a platform that will serve to shape Sydney Water future in areas like Western Sydney, especially as we deploy more capabilities with AI/ML to get real-time insights into asset condition, risk and criticality..
This program attracted interest around Australia and led to Sydney Water being named 'Digital Utility of the Year' in 2019, and also won the 'Global Smart Program of the year in 2019 in London' and amazing achievement following the adoption of a skunkworks approach with smart people in a room.
What are some of your greatest achievements/key milestones in your career thus far?
There are lots of things I am proud of, many of these relate to programs of work I have been involved with, but they mostly relate to the people I have either worked for, worked with or managed.
In terms of key milestones, I often reflect on the moments in my career where I have been at a crossroads and presented with a choice – 'do I go left or right?'. 
An example of that was when I left PetroFina. I was not too sure whether I should further my technology leadership career or take the leap into consulting with KPMG. I chose KPMG and never looked back, but that decision put me on a different career trajectory, and I promised myself I would take as much from that choice as I could.
There have been other similar choices, one such example was should I move across the world to join Sydney Water and work with an amazing Managing Director in Kevin Young. I made that choice and then threw my heart and soul into making it a success.
My main reflection when I look back is that when you are presented with choices and opportunities like this, take them – throw your heart and soul into what you believe is right and make it a success whatever you do. Never look back, look up, look forward, look beyond and shape where you are going.
My time in Sydney water has been amazing, and perhaps my proudest moment was when I was recognised as #1 in the Australian CIO50 awards. Although CIO's can self-nominate for this award, my team nominated me and collected relevant details about our achievements and successes.
It was a huge personal moment for me, but it was really a proud moment for the whole team as I only happened to be the figurehead at that moment – the team was responsible for the achievements. Since that moment I have often been referred to internally as '#1' by most of my team and also as 'C1O' by the Chairman and Managing Director – something I will always smile about with pride.
What's your next step? Plans for the future? 
I relocate back to the UK at the end of September with no job but a very open mind. I am excited about what might come my way, but I am keen to explore opportunities and choose a path that will inspire me to do my best work and be the best I can.
Whilst I am interested in leadership or transformational opportunities, I am equally excited about taking a path in directorships as a Non-Executive Director, or perhaps writing a book about my experiences and thoughts as I look back through my career and the things that have shaped and steered me.
Whatever the future holds, the most I could wish for is that my friends and family (both here and in the UK) remain safe and well during these uncertain times, and that on a personal level I stay true to my moral compass and my values in the decision I make next in my career.
What are some of your biggest lessons learned during your career? 
This one is easy for me: Forget about technology and focus on people – everything I have achieved in my career has been through being part of a team or leading a team of people.
I am a huge believer in the power of goodwill (academics call this social capital) and what can be achieved when you get a group of people all working as one towards a common goal with a clear purpose. That has been the magic of my time on the SAP program and Customer Hub program at Sydney Water and will take me forward in whatever I do next.
So, the greatest lesson I have learned is to trust, inspire, develop, nurture, support and encourage everyone around you – if you get any of these things right, then you will be successful in my view.
What challenges/hurdles have you faced in your career? 
Being a CIO is a tough gig – in fact working in IT is a tough gig. Everyone's an expert these days and everyone seems to have an opinion on how to do IT well. 
I have faced a number of challenges at different times in my career. Probably the most significant ones are related to whether I am perceived as part of the problem or part of the solution. The average tenure of CIO's has historically been quite short and I often wonder why that is. To my knowledge the average tenure here in Australia is something like 2.2 years – why is that I wonder?
I think it relates to how IT or Digital teams are perceived and positioned within organisations, and whether they are respected, trusted or supported by leadership. Some CIO's work as part of other business groups as enabling functions, often under finance or corporate services, while other CIO's have a seat at the top table and are spearheading the future strategy around how to really become digital at the heart, or become a digital business.
This positioning is often determined by the leader of an organisation and can lead to enormous success or intense frustration and disappointment. I have been in this situation a few times in my career and it's very challenging, both personally and professionally, but it's important to keep a positive mindset and treat each challenge or hurdle as an opportunity to make a decision and do something about it.
What are your top attributes for being a successful leader?
This is a difficult one, but some key thoughts come to mind. The first is to be approachable, open, honest and transparent, the next is to be true to yourself at all times, never letting your moral compass be influenced in a way that goes against your values, and perhaps the third one is always be who you are.
When I ask myself what type of leader I would like to work for or follow, I really like leaders who are vulnerable, open and honest with me about what they expect from me, what they trust in me and what they respect in me. 
Equally, I really believe in 'followership' as being the key measure of leadership. What I mean by this is that if you can create followers through inspiration, support, vision, encouragement etc., then you will be a good leader. So as a result, I constantly ask myself, 'what can I do better for my team or my peers, how can I create followership and trust in my teams and how can I inspire them to be the best they can be?' 
A lot of that relates to the environment you create as a leader; if you can create an open and transparent environment with the right level of challenge and also the right level of support and encouragement, including 'psychological safety and wellbeing' then you are probably certain to succeed as a leader.
This is only my view, I realise that many forms of leadership exist, but I do like this particular philosophy.
What advice would you offer to others looking to travel a similar path? 
This is an easy one for me – always be true to yourself, act on your feelings, emotions – lead from the heart and stay true to your values and moral compass.
I realise this is a pretty basic and simple answer, but I believe that if you do this, the rest will take care of itself; you will always be in a role that suits your approach to life, you will always be attracted to leaders who inspire and encourage you, and you will always find yourself in rewarding roles to be successful in.
Perhaps the last point here is do something that excites you and where you feel you can make a difference. I know that is obvious, but I know some people who are just not happy in their jobs but are reluctant to do anything about it.
What are some of the key factors in your background that have influenced your approach to management/leadership today?
My humanistic factors are probably my strongest trait. I think I have quite a high EQ and probably average IQ. I am pretty comfortable with that, but it sometimes comes at a cost personally. I am fairly thick skinned, but I bleed like everyone else, and I can be emotionally hurt sometimes.
So, with that in mind, I am always cognizant of how I make people feel, whether they work with me or for me. I am always trying to make sure I understand the impact I can have on people.
There's a great quote from Maya Angelou that goes: 'I've learned that people will forget what you said, people will forget what you did, but people will never forget how you made them feel'. 
This is a really important philosophy for me and has shaped my life and approach to leadership in so many ways.
What worries you – or encourages you – about the state of the ICT industry? 
I am very encouraged by the opportunities presented by technology and digitisation. I think everyone is excited about that, but I am worried about the level of dependence we will have on technology and the impact of a sustained cyber event that takes out some of these services.
Many industries have embraced the opportunities presented by automation, integration and digitisation, but not many companies have fully understood their business resilience needs in the event of a sustained cyber event or systems outage – I would argue that very few organisations are truly resilient to that.
With that in mind, I think the ICT industry has an obligation to raise its game and for experienced leaders to find positions on company boards so that they can truly shape and influence how companies should position ICT and how they should treat and respect it as an equal to other corporate functions like finance and HR, for example.
The ICT industry, and in particular the leading professionals, need to step up in this regard and raise awareness at board level.
How has the role of CIO changed since your early days? 
The role has changed massively. My first role as a 'Director or Head of IT' was primarily focused on keeping the lights on, whereas now, successful CIO's are shaping business strategy and even industry strategy in some cases.
There's so much dependency upon technology in every industry and business these days, the role of the CIO has significantly shifted and if done well, will be seen as a peer to the other c-level roles such as COO, CFO etc.
Looking forward, I believe the future Chief Operating Officers will be filled by people with skills commensurate with today's CIO's, and also I could see strategy roles being filled by CIO's too.
In fact, for 10 months in Sydney Water, I was asked by the Board and Managing Director to take on the role of General Manager – Customer, Strategy and Regulation – the reason being that more digital thinking needed to be included in our regulatory submission and our forward strategy – what a great opportunity that was for a CIO.
What's one thing people don't know about you? 
One of the most diverse opportunities I have had was to work in China for a year in 2008 on a major SAP implementation and IT transformation program. The company I worked for was a huge chemicals company that was a 'State Owned Enterprise,' which means it was owned by the Chinese Communist Party.
It was a very exciting program, especially in the Olympic year, but not something I would want to do again. I learnt a great deal about myself during that time and really enjoyed it in many ways, but I missed the comforts of western life and the freedom we enjoy.
One other thing people may not know is that I ran the London Marathon twice in 1995 and 1996 and came in just under four hours both times – that taught me a great deal about discipline, determination, personal resilience and the need to focus when you hit the notorious wall in whatever you're doing.
What do you do outside of work?
My main sport for years and years has been rowing, with a bit of cycling thrown in, but whilst I have been in Sydney I have really enjoyed learning to sail. 
I bought myself a very small sailing boat and had the enormous joy of sailing on Sydney Harbour – that's something I never thought I would do in my life and became a possibility because of my time here in Sydney.
 What's on your bucket list?
I have two things that I would really like to do. One is to write a book as I feel like I have got a lot to say and I want to write it down. My motivation here is to create a sort of memoir about who I am and what I care about, mainly for my family and friends, but if it was useful to other leaders, that would be great too.
The other thing I would like to do is an epic bike ride of some kind. I always fancied riding from 'Lands End to John O'Groats' which is the length of the UK, or perhaps 'London to Paris' but so far I haven't had the time or the energy to prepare properly and get on with it – who knows, I may have more time when I return to the UK and realise that dream.
If you weren't in IT, what would you be doing? 
Great question. There are a few things I really enjoy – one is creating things. When I was an engineer and a software developer, I always felt I was building or creating something, but as I have progressed into management I feel further away from that, which is frustrating. So with that in mind, I could easily see myself as a carpenter or builder.
The other one is a job in academia. I really like the idea of working at a traditional university, perhaps in IT or perhaps as a lecturer or researcher. I am keen to complete a Ph.D. at some point that could coincide with writing a book – so the second thing I would be doing if I wasn't in IT would be growing my hair and a beard, applying patches to the elbows of my woollen jacket and wearing jeans to work every day doing research and the odd lecture.
Most recent S2C Storytelling: 
S2C Storytelling with 'team builder' Damian Fasciani 
S2C Storytelling with ICT 'transformer' Vladas Leonas
S2C Storytelling with change agent and author Nina Du Thaler
S2C Storytelling with Australian Analytics Leader Dr Alex Antic
S2C Storytelling with 'Champion for Women in Security' Amy Roberts
S2C Storytelling with Aussie CDO Rainer Rhedey
S2C Storytelling with YMCA Victoria Executive Head of Technology Shane Riddle
S2C Storytelling with Heart Foundation CMO Chris Taylor
S2C Storytelling with business influencer Leila Henderson
If you are interested in being a subject for the S2C Storytelling section please do not hesitate to reach out to Jennifer O'Brien at jen@source2create.com.au